The history of the world spans countless eons. According to Atru mythology, this world existed for an unknown number of years until it was populated by the gods. The Multiplicity, as they were called, constructed the city of Throne and eventually forged the Inheritors, four races of people who were to maintain and expand throughout the Wheel.[1] But by creating the Inheritors, the gods willingly destroyed themselves.[2]
After an extended time had passed, the demiurges arrived in Throne, ushering in an era of prosperity marked by significant technological achievements. The most noteworthy of their discoveries were the Key of Kings and the King's Door, inventions which eventually led to the Universal War and the destruction of nearly every living demiurge. By establishing the Pact of the Seven Part World, the remaining powers took control of the known world and divided it equally amongst themselves. For thousands of years their rule remained unchallenged until Jadis divined a prophecy which described their downfall.
Ancient history
Edit
Modern history
Edit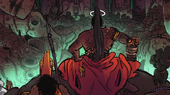 Events of unknown chronology
Edit
Notes
Trivia
References
Edit
Ad blocker interference detected!
Wikia is a free-to-use site that makes money from advertising. We have a modified experience for viewers using ad blockers

Wikia is not accessible if you've made further modifications. Remove the custom ad blocker rule(s) and the page will load as expected.