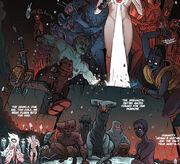 Koss' Workshop,[1] also known as the Concordance of Angels,[1][2] is the headquarters of the angelic organization of the same name.
Previously the workshop (or workbench) of the god Un-Koss,[3] it was carved into a meeting hall after its owner's death.[4]
It contains a stone block that features a glowing tree,[2] a mural of a mandala representing the Wheel,[5] and a foreboding inscription.[6] The Holy Thorn Knights are still welcome there, while seats there are littered with the shells of dead angels from other paths[2] that are awaiting reclamation when their owners reincarnate.[7]
References
Edit
Ad blocker interference detected!
Wikia is a free-to-use site that makes money from advertising. We have a modified experience for viewers using ad blockers

Wikia is not accessible if you've made further modifications. Remove the custom ad blocker rule(s) and the page will load as expected.